Omg I give you something so wonderful to aspire to, your highest calling as gift puppet to THE Financial Domination Princess DIVINE! Omg to be allowed and granted the gift of such exquisite pleasure; spending all your hard earned CASH on Pretty Little Baubles and Rare Collectibles for ME!
Behold one of My most recent acquisitions to My Marilyn Monroe Collection, this lovely ultra feminine Marilyn Monroe Cocktail Set! Omg how fortunate for you to be allowed to buy such pretty little things for Me!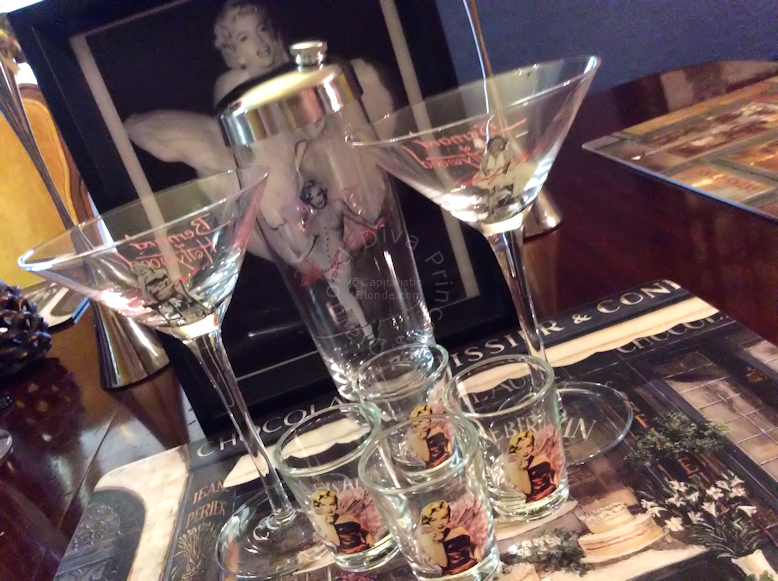 My absolutely exquisite Marilyn Monroe Cocktail Set features imagery of Marilyn by the legendary Bernard of Hollywood. Don't you just adore the way it shimmers in the light?!
Just imagine Me sipping My elegant champagne cocktails out of one of these lovely long stem martini glasses! OMG you LOVE to buy pretty gifts for Me and spoil Me rotten with all the things I love!
The exuberance with which I delight in spending what was once *your* money gives your tawdry life MEANING. It is WAY MORE than you deserve.
Shop My PRIVATE & EXCLUSIVE WISHLIST and buy pretty presents for ME!! My PRIVATE & EXCLUSIVE WISHLIST is filled with the most femininely alluring items you could possibly imagine, all My most FAVOURITE things! INDULGE in ME!! $$$
Of course you canNOT begin to imagine that such a singular privilege will be easily given. No, even a GLIMPSE of MY wishes is a DIVINE pleasure that will COST you dearly. Access to this PRIVATE & EXCLUSIVE wishlist is NOT available for free to view by the general public.. OF COURSE NOT. Access to MY PRIVATE WISHLIST is available ONLY via PAY TO VIEW, and is denied via any other avenue. Remember.. it is an HONOUR to oogle MY wishlist and way MORE than you deserve!!
Peruse My wishes!! Go ahead.. SPLURGE! (I will be adding more items per MY whim, so you should check it DAILY) SHOP FOR ME EVERY DAY, FOOL!