Some recent testimonies to lure you into My Pretty Poison Man-Trap!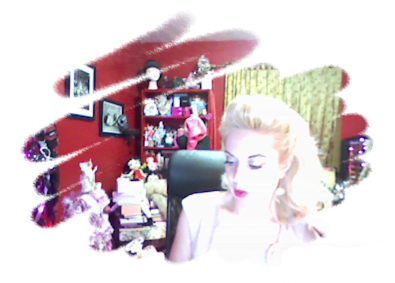 "If this GEM does not infuse you with HER narcotic estrogen. you must be blind and deaf, i pity you, my friend. DDP = Purfect" ~ My DOLLY DEAREST SWEET STEPHANIE infused with My ESTROGEN NARCOTIC after gazing spellbound upon My *DIAMONDS TEASE* Platinum Blonde Chanteuse VIDEO (currently in PRIVATE release!)
"my new FAV video ever! sippy sip and loop until i die in HER ecstacy" ~ My DOLLY DEAREST beholds one of My first BLONDE FETISH VIDEOS: *GOLDEN HAIR SCHOOLGIRL* a very RARE VIDEO! Just added on Niteflirt for the very first time! Look for it in My next ROYAL DIARY entry!
"i just can't live without YOU… can't YOU see it in my eyes?" ~ My DOLLY DEAREST continues fanatical zealot testimony over My gorgeous GOLDEN HAIR SCHOOLGIRL VIDEO after tributing to My latest ULTRA GLAM COMMAND!
OMG the reward sensation of receiving one of My PERSONAL ULTRA GLAM COMMANDS is beyond euphoria!
"Beautiful enchanting magic." ~ My DOLLY DEAREST under the Blonde Alchemy Spell of My 'HOLLYWOOD BLONDE HAIRBRUSHING at Mae West's Vanity!' Hypnotic BLONDE FETISH Video. OMG this GORGEOUS footage of ME brushing My PLATINUM BLONDE HAIR in MAE WEST'S SUITE wearing a blue sequined dress utterly controls your mind.
My PLATINUM BLONDE TRESSES gleaming like a halo of light upon My pretty head enslave you to My femininity & GLAMOUR!
"It is the Besty BEST feeling in the Whole Wide World" ~ My DOLLY DEAREST testifies to the BESTY BEST feeling in the WHOLE WIDE WORLD of obeying & paying PRINCESS as dolly renews monthly membership to My BRAINWASH STATION & DIAMOND CATHEDRAL. OMG being allowed beyond the Royal Gate into My PRIVATE CHAMBERS to be trained by Me to be troubadour to My wants & desires, to learn to serve as My human chattel and robotic wallet is the most wondrous sensation in the WORLD!
"More than just a force of Nature— the Ultra feminine Tornado. swirling PrettyprettyPink fog through my lil' dolly brainy-poo. Pure Goddess" ~ My DOLLY DEAREST hypnotized & mesmerized by My SIREN SONG in My new Platinum Blonde Chanteuse VIDEO *A FORCE of NATURE* (currently in PRIVATE release!)
"She is the Absolutely the Most ddelicious visions of pure Beauty." ~ My DOLLY DEAREST under MY PLATINUM BLONDE SPELL! This VIDEO is privately available ONLY, and currently featured at this moment in My BRAINWASH STATION & DIAMOND CATHEDRAL for a limited time! JOIN NOW to fall under My BLONDE DIVINITY SPELL.
"Watching Her videos on Friday night is the Besty-best thrill!" ~ My DOLLY DEAREST clicking & paying, spending Friday night in the besty best way.. watching My glorious DECO BLONDE UNDER MOONLIGHT PALMS,  a film clip of Me out and about under the moonlight palms, wearing an absolutely stunning Grecian style couture dress and gold deco heels.. a little glimpse into MY World!
"Pure Divine Rapture" ~ My DOLLY DEAREST cclickyy clicks & pays to behold Me in WHITE LACE in SEQUINS, now featured in My new VIDEO *A VISION in WHITE*, OMG you can't take your eyes off of Me!
"I'll curate to see and hear this vision of pure Woman on screens winding up the Guggenheim ramp. A museum worthy of Her art." ~ My DOLLY DEAREST totally SLAIN by My new HIGH ART MASTERPIECE of HYPNOTIC ADDICTION VIDEO *EVERYBODY LOVES ME* (currently in PRIVATE release!), OMG this sequence of addictive VIDEO footage of ME choreographed hypnotically to the driving beat is HIGH ENERGY, PURE ADRENALINE, and My ULTIMATE DOPAMINE BOMB in your bbrainn! you are on PINS and NEEDLES for Me to release publicly!
OMG you LOVE ME SO~ so addicted to the RUSH of GIVING INTO ME and feeling My ESTROGEN RUSH flood your bbrainn, rushing through your veins! you LIVE to PLEASE ME.. to WORSHIP ME.. to ADORE ME.. to SPEND ALL your MONEY on ME.. to feel My SPARKLE CHARM, My DIAMOND LIGHT SHINING UPON YOU!
Click BUY NOW below My DOLLY DEAREST, *SIPPY SIP & CLICKY CLICK*! Gaze upon My latest dose of LUXURY SHOPPING imagery on your ditzy dolly knees!! It is such an honour to oogle My glorious images and glimpse into My shopping bags! My HIGH END DECADENT SHOPPING SPREE paid for by YOU! OMG it's the BESTY BEST feeling in the WHOLE WIDE WORLD!
OBEY & PAY
*miss mary mackkkkkkkk*!

Shop til you DROP @ THE Financial Domination Boutique, Platinum Glamour!