I will be lighting candles tonight in memory of THE Luminescent Marilyn Monroe, I will keep these candles lit in a vigil from 11 p.m PST to 4 a.m, during Marilyn's final hours. Follow Me on TWITTER to keep abreast of the details, and to celebrate the life of Marilyn with Me in the early morning hours of August 5th.
During this 5 hour LIVE event I will be sharing Marilynette stories, posting images and videos of Marilyn Monroe, and watching Marilyn movies, along with a few of My close friends, and other Marilyn fans across the world. I will be posting EXCLUSIVELY during the event both in My MEMBERS AREA, and on the official MARILYN VIGIL twitter. Be sure to follow this twitter account so you don't miss a thing!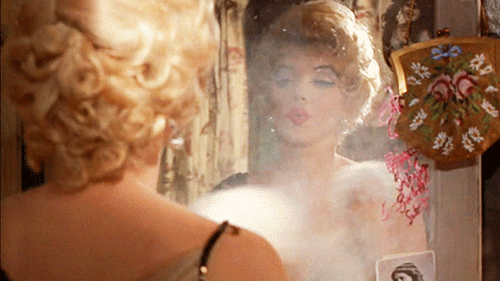 I have chosen THE PRINCE AND THE SHOWGIRL as My Marilyn movie selection for this years event. One of the movies produced by Marilyn's own production company 'Marilyn Monroe Productions'! I'll be wearing a glittering gown and jewels in memory of Marilyn during Marilyn Vigil and toasting to her memory with Champagne Bubbly! Of course TWINKLE will also be celebrating, and dressed adorably in one of her Chi-Chi Couture dresses and jewels in honour of this occasion!
"I've been asked, 'Do you mind living in a man's world?' I always answer, 'Not as long as I can be a woman in it." ~ Marilyn Monroe
Don't miss your chance to be involved by CONTRIBUTING to My INDULGENT LUXURY Party!! Each slave which contributes will receive an EXCITINGLY CLANDESTINE email surprise filled with exclusive photos of My revelry, which NO ONE else will get to see.. private glimpses of sumptuous indulgence such as you can only DREAM of!
This CLANDESTINE PRIVATE EMAIL will also include an EXCLUSIVE VIDEO excerpt of My Live Performance this month in memory of Marilyn Monroe..
and photos from a special private photoshoot not available to ANYONE else but those who participate

!

 To participate, click & pay one or all of the 5 items below to contribute to My LUXURIOUS PARTY! The luxury tribute selections vary in price, and all tributes include the exciting INTERACTIVE CLANDESTINE EMAIL SURPRISE detailed above INCLUDING My EXCLUSIVE LIVE PERFORMANCE VIDEO in memory of Marilyn Monroe, which will NEVER be available at any other time, and ONLY sent to those who participate!
This celebration will come to a finale at 4 am when we listen to MARILYN MONROE'S EULOGY by Lee Strasberg, please bookmark it and watch along with Me at 4 a.m. I encourage you to have your own personal celebration of Marilyn's life along with Me.. we keep her memory alive in our remembrance.
"For the entire world, she became a symbol of the Eternal Feminine" – Lee Strasberg, Marilyn's friend, confidante, acting coach, and director of the famed Actor's Studio
RIP Marilyn Monroe – your laughter & luminescence lingers on
Shop til you DROP @ THE Financial Domination Boutique, Platinum Glamour!



financial domination, money domme, blonde fetish, Goddess Worship, Blonde Worship, Hypnodomme