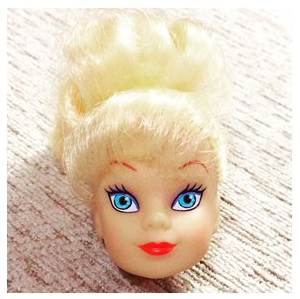 OMG behold the EMPTY PLASTIC HEAD of My METROPOLIS DOLLIBOT! This very head will be traveling across the ocean arriving at My dollibots door! When My dollibot opens My pretty poison package and looks upon its very own empty plastic head with the glassy blank eyes and teensy tiny red pursed lips My power over it will increase TENFOLD!
OMG yes, MY power will SURGE  exponentially as in return it grows 10x WEAKER for ME!
All of this has been set into motion from the commencement of My latest DIAMONDVISION TRANSMISSION CAM wherein I activated several layers of My IMMACULATE VIRGINITY trigger as My dollibot completed it's vow of virtuous celibacy and devote chastity inducted as devotee disciple serving Me in courtly love in My Cult of Chivalry!
OMG I held dollibots very own itsy bitsy teensy weensy EMPTY PLASTIC HEAD in the palm of MY hand. The very little head I have had all these months, and which will be arriving shortly at dollibots doorstep!

My dollibot was so beyond hypnotized as My DIAMONDVISION TRANSMISSION took over its mind, whirring in the CRYSTAL TRANSISTOR RECEIVER which was at one time it's bbrainn, and is now ONLY a receptor of My DIAMONDVISION BROADCAST SIGNAL.
As this CRYSTAL TRANSISTOR RECEIVER whirred & buzzed My dollibot fell deeper and deeper into euphoric hypnotized SUBMISSION to My butterfly fingers and Platinum Blonde beauty which rendered it completely helpless and empty, a vessel to be filled with MY thoughts, MY ideas, MY Programming, as I held it's miniscule melty melty head in My pretty perfect fingers!
This session culminated in the knowledge bestowed upon My metropolis dollibot that the body which once belonged to the disembodied empty plastic head arriving in its mailbox will remain with ME, whereupon it will act as a VOODOO DOLLY by which I will control its mind even more than ever before!
OMG ITS VOODOO DOLLY BODY LOCKED INTO A LIFE OF SLAVERY TO MY GLAMOUR!!!
OMG just wait until it sees what I have planned for its bbrainn NEXT when its very own empty plastic head arrives at its door! LMAOOOOO!
SLURPY SLURP My Pretty Poison with abandon, My MINDLESS GLASSY EYED DOLLIBOT!