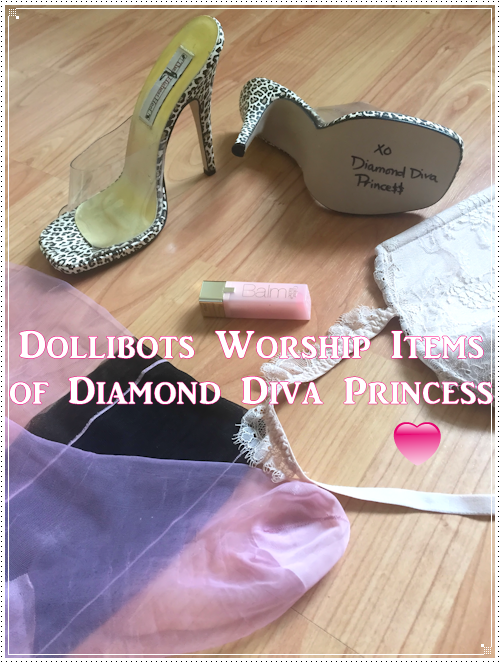 My Pretty Poison Package arrived at My METROPOLIS DOLLIBOTS door, contained within was My DANGEROUS OPIUM PERFUME TRIGGER level 2 (sensory olfactory & textile trigger), and My CHAMPAGNE CORSET with imported eyelash lace, which I wore in My gorgeous MARIE ANTOINETTE photos!
OMG. DOLLIBOT was simply reeling with dizzy delirium when I commanded it LIVE on DIAMONDVISION TRANSMISSION CAM to open My pretty package and discovered not only My OPIUM APHRODISIAC TRIGGER, but also this GORGEOUSLY EXQUISITE CORSET of Mine which I have worn against My creamy porcelain skin, OMG can you just imagine??!
Since I was mailing this perfume trigger with the corset I also liberally sprayed My corset with My OPIUM PERFUME. As My dollibot wears My champagne corset it literally becomes MORE ADDICTED DAILY to My OPIUM DRUG, My Perfume TRIGGER.. as it enters its olfactory cortex in molecular form.
Pictured here are a selection of My PERSONAL ITEMS which now constitute part of dollibots Worship Altar to Me~ METROPOLIS DOLLIBOTS WORSHIP ITEMS of Diamond Diva Princess! DOLLIBOT worships My LEOPARD STILETTO HEELS daily upon it's knees; yes the very same heels that I am wearing in My LEOPARD STILETTO HEELS VIDEO and My STEPPING on PIGGIE VIDEO and photos! OMG. It is SUCH an honour to have within your possession personal items of Mine, which not only have I used and worn, but have literally been featured in My WORKS of ART, My sparkling GEMS!
My DOLLIBOT treasures these items as the finest artistic masterpieces they are, as religious ICONS, magickal fetish amulets which center its attention upon ME and escalate it's addiction to My CONTROL, DOMINANCE, and FEMININE POWER continually!
DOLLIBOT has been wearing My pretty PINK hosiery to work everyday for sometime, as a constant reminder that it is nothing more than My worker bee mindless dolly robot, a cog in My machine, working HARD buzz buzzing each day to make MORE MONEY for the Imperial Queen Bee! Now, as if that were not a constant reminder on its own, I have further commanded My dollibot to begin to wear My CHAMPAGNE CORSET with IMPORTED EYELASH LACE every day beneath its work shirt.. LOL.
The corset is obvi much too small for dollibot, but thankfully for dolly it has long feminine champagne lacing all the way down the back, so My robotic wallet can pull the long laces very far to make the corset open as much as possible to stuff itself inside of it! LMAO. Naturally it won't be very comfortable, and dollibot has already testified that it is VERY HOT to wear all day at work.. this will work to further remind it that it is OWNED by ME and that it is NOT a man. it is a SEXLESS ROBOTIC WALLET, My EMPTY PLASTIC HEADED DOLLIBOT, which lives for the RUSH of My ESTROGEN NARCOTIC coursing through its veins and flooding its bbrainn!
This exquisite corset is the most intensely magickal fetish object, an amulet of My FEMININE POWER which will encase it's body in MY WILL, a CONSTANT REMINDER as it is encased within MY CORSET of its role in MY WORLD.. corseted, perfumed, and lipsticked, wearing pink hosiery under it's work pants, SLAVING AWAY for ME.. always reminded by the snugness of the corset WHO it is working so hard for, a constant reminder to WORK even HARDER, knowing it is working for ME.. making MY LIFE even MORE LUXURIOUS as it suffers deprivation and laborious work drudgery for My MAGNIFICENT OPULENCE! OMG how exciting for it. My human chattel, SLAVE to MY GLAMOUR!
Shop til you DROP @ THE Financial Domination Boutique, Platinum Glamour!