Posts Tagged 'Rare & Antiquarian Books'
!!JUST RELEASED!! The Exclusive Premiere of 'LUXURY GLAMOUR BLONDE ~ Dom Perignon Rose Indulgence (In Blue Fox FUR & Long Opera Gloves)' Blonde Fetish VIDEO
"Other Hypnodommes have to resort to glittering crystal pendants SWINGING TO AND FRO to hypnotise their prey… THE SUPREME DIAMOND DIVA PRINCESS just has to be HERSELF since SHE IS THE BRIGHTEST DIAMOND SHINING IN THE WHOLE UNIVERSE HYPNOTISING ALL" - My METROPOLIS ROBOT DRONE ANDY
OMG I am SO LUXURIOUSLY Glamourous!! LISTEN STAR-STRUCK as I SPEAK DIRECTLY to you, wearing My PLUSH BLUE FOX FUR and LONG EVENING GLOVES, dripping in jewels,

My PLATINUM BLONDE tresses crowning My DIVINITY in a luminescent GLOW like a shimmering HALO

.
I indulge your senses in a detailed description of the luxuries I am indulging in.. My Literary pleasures, Dom Perignon ROSE Champagne & 24kt Edible Gold.. OMG you LOVE when I laugh and giggle, delighted in MY LUXURIOUS EXTRAVAGANCE.
I blow a kiss, gazing with narcissistic pleasure at My mirrored image in My GILDED MIRROR bejeweled with gems & pearls, shaped like a heart ~ and OMG I am far too PRECIOUS to resist.. an ANGELIC BLONDE NARCISSE. Buy NOW.
Shop til you DROP @ Money Domineiress Platinum Glamour Boutique!



Money Domme, Financial Domination, Glamour Fetish, Vanity Fetish, Luxury Blonde, Hypnodomme, Celebrity Findom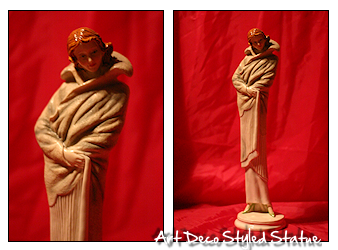 Above are a couple photos of a super pretty Art Deco styled statue I recently purchased. It is about 16 inches tall and is currently exhibited on My vanity. My boudoir/studio is styled in a mixture of Art Deco and Frenchy Moulin Rouge decor, I recently filmed a video tour, where I show you some of My favourite things, and you catch a glimpse of the above statue, among a bunch of other super cool stuff! I even discuss a few selections from My large collection of first edition & rare edition books, and some of My cool first PULP editions too, like My first pulp edition of Burgess's A Clockwork Orange.
*The rest of this entry is far too SCANDALOUSLY INGENIOUS to post for the general public's consumption, this is PURE GOLD! you'll need a PASSCODE to access all the JUICY DETAILS! [GET PASSCODE]

*The rest of this entry is far too SCANDALOUSLY INGENIOUS to post for the general public's consumption, this is PURE GOLD! you'll need a PASSCODE to access all the JUICY DETAILS! [GET PASSCODE]

lolita japanesa finally finished making that smurf video for Me.. lol!! Remember he posted a comment about it back a little while ago, and how he was trying to make it. It's so cute, ha. he laboured over it for many hours, which I think was really sweet – he designed the whole background and set up all the little smurf houses and stuff, then he had to fix something up so that the cars and things would move on their own.. click the link below to watch it!
[ifilm width="224" height="182"]http://www.ifilm.com/video/2872146[/ifilm]
How cute is that? I love how the smurf drives into the other one with his car, and like gargamel is hiding behind a snowbank, and how it ends with smurfette about to kick a snowball at him, LOL!!
I've been sooo busy having FUN blowing what *used to be your ca$h*!!
*The rest of this entry is far too SCANDALOUSLY INGENIOUS to post for the general public's consumption, this is PURE GOLD! you'll need a PASSCODE to access all the JUICY DETAILS! [GET PASSCODE]

..Kind of reminds me of that statue, the babe without the arms!
My slave irishgirly is SUPER DUPER happy because *she* finally started a new job. :bouncy: irishgirly will be working from home again, so this is really cool because *her* new job wont interfere with her 24/7 girly training!! irishgirly is still wearing a corset 21 hours out of everyday, in accordance with My instruction for her corset training, which modifies the structure of her very organs, creating a more "girly" shape – also girly is still on *her* female hormone 24/7 patch – so is really progressing well in her training!
In celebration of girlys new job, I allowed *her* to purchase a gorgeous vintage art deco carnelian, chrysoprase chalcedony cabochon, and pearl ring for MOI – OMG its sooo pretty!! I just adore art deco vintage jewelry from the 1920′s, and I LOVE carnelian.
My OBSESSION with David Lynch's TWIN PEAKS continues unabated!! I have now ordered Agent Dale Coopers 'autobiography', Laura Palmer's Diary, and the Dale Cooper Twin Peaks "Diane Tapes". oOoOo and I also received a special gift of the full set of Twin Peaks Collectible Card Art. I've received some very cool feedback on interpretations about the last episode.. and I now have freddy conducting an unofficial poll on creamed corn consumption – LMAO!! If you are a Lynch/Twin Peaks fan, youll know what Im talking about, lol. I'll post an update later on how his poll is going.. he hasnt even been able to get ahold of season one yet to start watching it, so he doesnt even know what the creamed corn thing is about, and he's already doing a poll on it, LOL. he is still like 6th in line waiting to rent season one, cuz the person that rented it last kept it out past due!
boo! boo!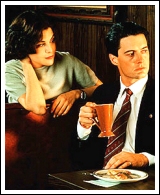 I watched Fire Walk With Me again after finishing the second season, and WOW does it make WAY MORE SENSE after seeing the second season. My friend that I mentioned in My last diary post.. you know the one that said do I always get what I want, because as soon as I decided I wanted season 2 to come out, like BAM its released, said to Me the other day "I'm still impressed – and somehow think – that season two was released for you. For years there were no plans to release it. There was argument about rights and practically every other thing you could imagine. You said you wanted it, *POOF* it's out." It IS kind of funny how it worked out that way, isnt it? YAY I ROCK.
And speaking of Very Cool Things.. Rob Zombie said the other day that THE DEVILS REJECTS are being released as Living Dead Dolls.. OMG how cool is that?! I LOVE Living Dead Dolls, I cant wait to get the whole set of TDR dollies!! Here's a preview picture of the Otis living dead doll..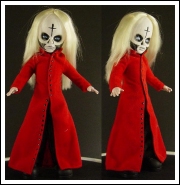 Isn't he SO cute??!
OMG recently I had a call on niteflirt from a chinky slave, so this is officially My first chink! I mean, I know, I call MY korean buckethead a chink – but technically hes korean (which is why its even more humorous, since he HATES being called that), if you havent read about buckethead click HERE, its very funny! (p.s. you'll need the password) you can also read about how I wanted a chink to add to MY money slave collection – which I now have!! :bigsmile:
I was very pleased when My new chinky called – he now lives in the USA, lucky little chink. I told him how I had actually been wanting a chinaman money slave to add to My collection, which of course made him very happy! he was SO funny, I totally teased him UNMERCIFULLY – making him pay for the sins of his native land. :predatory: I kept making him say all sorts of things about china, which I found extremely amusing, and then spent some time programming him to reply every time I asked, "what would you be doing right now if you were in china?" with: "sleeping on the floor, peeing in a hole, throwing trash in the streets, throwing trash in the water" .. LOL. Which is what he would no doubt be doing, since apparently that IS what they do in china. As you can read in the link I posted above, freddy went to china for a business trip back a couple of months ago and was SHOCKED at how totally FILTHY it is there, and how the chinese just throw garbage in the streets and water.. EW.
I also let him speak some chinese sentences, which made Me giggle.. he was saying stuff in chinese like he bows at My feet and worships Me.. and I made him repeat the stuff over and over – I couldn't help but laugh at him all the while! It was lots of fun!! So I now have a chinaman money slave.. w00t! Now to find a taiwanese.
Lots of you dorks have been busy opening MY new slave assignments, and I am pleased to be accumulating lots of SIGNED slave contracts!! A nice big STACK. One of My new swedish slaves that opened and signed My slave contract immediately after signing up for My annuity slave program, was also allowed to open both parts of My invading your mind series, and that is sure to REALLY fuck with his head! If you haven't listened to one of MY wicked hypnos, go to My "Exhibits" page and do so now!
:journal: oOoOo Remember how I talked on a previous diary entry about watching Marlene Dietrich in 'The Devil is a Woman' and how much I TOTALLY LOVED IT? :loved: Then I found out that the movie was based on this book by Pierre Louys called 'Woman and Puppet', so I really wanted to read it, since the movie was SO cool, and the title of the book so intriguing. you can click HERE to read about the film, IF you are lucky enough to have the password to read My locked entries, but to recap.. the premise of the story is this: a cold-hearted blonde vixen taking advantage of men for their money leaving them with broken hearts.. meow! Definitely MY kind of storyline.
I can only imagine the book is even better than the movie, though imagining that is difficult. I looked for it at bookstores, but I couldnt find it anywhere, not even to order. I always love all these totally subterranean things that are really difficult to find.. lol.
Anyhow! Eventually after searching and searching I found a copy of a LIMITED EDITION private printing of the book from 1930, of which only 2500 copies were made.. so of course I HAD to have it to add to My first edition, limited edition, and rare books collection. It is beautifully illustrated and in "near fine" condition, ie no marks, bookplates, writing on the pages, etc. Since freddy bought My Marlene Dietrich DVD collection for Me, which included The Devil is a Woman, I also allowed him to buy this special rare book for Me!! I so cannot wait to read it!!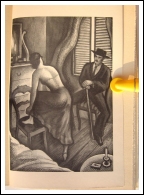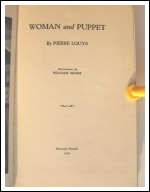 oh AND Pierre Louys spent most of his life in France and was friends with both Andre Gide and Oscar Wilde, so this book is TOTALLY going on My frenchy bookcase which is reserved exclusively for french writers/artists.. I organize My books in a totally eclectic way.. I think Ive mentioned this on My diary before.. I like to put the people that associated with other people next to each other on the bookcase, so like in other words Man Ray is next to Cocteau, etc. The frenchy bookcase does include expatriates obviously, like Henry Miller.. so I will probably put Louys somewhere appropriate, like next to Gide.